---
The Best Spots To See The Marco Island Sunset
Posted On Thursday, February 14, 2019
---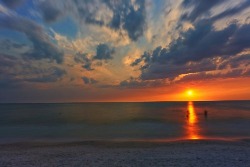 Sunsets have always fascinated and awed humanity. As the sun sinks and the sky morphs to a colorful masterpiece of purples, pinks, and oranges, it is hard not to stop what you are doing and take a minute to gaze in wonder. When you stay in our Marco Island vacation rentals, we encourage you to visit one of our favorite places to catch a glimpse of these captivating natural phenomenons. Discover the sheer beauty of an ocean sunset during your stay with us here at Marco Island Vacations Horizon Rentals.
A Tranquil Evening
There is nothing quite like a sunset reflecting in dancing colors off the waves of the oceans. The dimming light forms a contrast of dull blues and greys framing a vibrant painting of colors splashed across the sky. Two fantastic areas to watch the sun sink for a peaceful evening is at the South Beach Access and Maple Ave Access. These spots are free to the public but are often a little let crowded as there are no facilities. You can bring along a blanket and sit on the beach and watch the sunset. These two spots are perfect for families and couples that are hoping to avoid large crowds.
Sip And Enjoy
For a date night that you will never forget, watch the sunset over a delicious dinner and drink. At CJ's on the Bay, you can enjoy phenomenal seafood dishes like their crab cakes and lobster paired with a specialty cocktail in outdoor seating. CJ's on the Bay is ideal for a romantic evening seaside with your love.
Another fantastic place to enjoy the setting sun with a meal or beverage is at Sunset Grille. Named appropriately, Sunset Grille is located just off of the beach and offers indoor and outdoor seating that both provide stunning views of the water. A cab service is available to visitors so you can easily get from your dinner to your Marco Island vacation rentals after the moon comes out and you are ready to wrap up your day.
A Rental With A View
When you book your stay with us at

Marco Island Vacations Horizon Rentals

, we have several properties and Marco Island vacation rentals that provide fantastic sunset views. If you would rather stay in for a relaxing night of watching the sun go down, give us a call at

(866) 783-3844

, and we can help you find the perfect

accommodations

for your Marco Island getaway. Experience sunsets like never before!



Comment on this post!