---
Marco Island Boat Rentals And Waterfront Fun!
Posted On Tuesday, December 11, 2018
---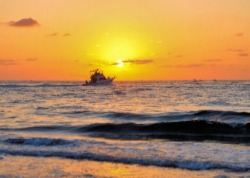 When you book an island escape with Marco Island Vacations Horizon Rentals, get ready for some fun on Marco Island beach and a fun time on the water! There are endless things to do in Marco Island, and we encourage all of our guests to experience the ocean and all of the fun activities it harbors. Whether you love relaxing on the bobbing waves or the thrill of a high-speed ride on a jet ski, you will be able to experience it all when you stay in our Marco Island rentals!
Cast A Line
A popular pastime across the world is casting out lines in hopes of reeling in a monster fish. Many love rocking with the waves as they wait for their lines to tug and the challenge of finessing a fish into your boat. You can find many different fishing charters like Florida's Finest Fishing and Dawn Patrol Charter Fishing. Climb aboard a fishing charter and get ready to see what kind of tropical fish you can find!
Finding Quality Boating Clothes
When you are planning on taking part in things to do in Marco Island like boating, fishing, or taking an eco-tour through the waters, you want to be as comfortable as possible. One of the best ways to ensure you will be able to remain comfortable is by having the gear necessary for your ocean adventures. You can find quality boating clothing, accessories, and beach gear at Rose Marina. From hats to shoes, you can find all you need and be dressed head to toe in the best quality gear on Marco Island.
The Perfect Island Escape
Marco Island is an incredibly beautiful corner of the world, and we cannot wait to help you experience it. Here at Marco Island Vacations Horizon Rentals, we have a wide variety of Marco Island vacation rentals that are ready for you to settle in and set out on all of the adventures that await you on Marco Island. Join us for oceanfront fun and create memories that will last a lifetime!
Comment on this post!