---
Discover The Birds Of Marco Island Florida
Posted On Sunday, November 11, 2018
---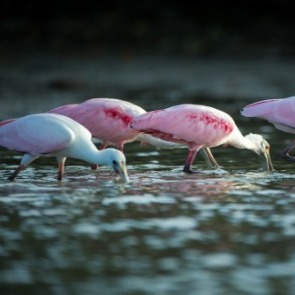 One of the most intriguing animals to humans has always been the bird. Able to roam where it pleases and soar high above the trees, people have always had a fascination and near envy of our feathered friends. Catch glimpses of some of Marco Island Florida's most beautiful and eye-catching fowl when you stay in Marco Island vacation properties with Marco Island Vacations Horizon Rentals and discover the birds of Marco Island Florida.
A Few Fowl Favorites
Roughly two-hundred different species of birds have been spotted in Marco Island Florida; however, there are a few that have grown to be local favorites. When people think of Florida, they often think of alligators and flamingos, so naturally, the American Flamingo is a staple of our beautiful island paradise. Vibrantly colored and its unique shape makes the American Flamingo easy to spot and entertaining to watch with their flock. Herons, egrets, and pelicans are also well-known waterfowl that many enjoy viewing on their bird watching excursions. You may also see an eagle diving for a fish or long-legged waterfowl wading in a calm spot just offshore to enjoy the warmth of the sun. Birding on Marco Island has become a popular draw for those looking for a new adventure as there is a wide variety of species that are hard to find anywhere else.
The Best Bird Watching Spots
There are seemingly endless options for places to get in a bit of birding when you visit our Marco Island vacation properties. In nearby Naples, Florida, you can take a stroll through Corkscrew Swamp Sanctuary to find birds perched in the forest areas as well as waterfowl below. Tigertail Beach is also a well-known haven for birds of all shapes and sizes with the sandy beaches and tidal pools creating a diverse habitat. Everglades National Park is a popular spot to find eagles and Roseate Spoonbills, while Rookery Bay National Estuarine Research Reserve is a 110,000-acre area full of copious amounts of wildlife and birds. Ever January you can even take part in the Southwest Florida Birding and Wildlife Festival for a bird watching event that you will never forget!
Your Marco Island Vacation Properties
When you take a trip to our beautiful island home, you will discover an array of waterfront activities and other exciting things to do in Marco Island. However, one of the best ways to get to know our island and the wildlife that also calls the area home is by grabbing your binoculars and setting out on a birding excursion. Stay with us at Marco Island Vacation Horizons Rentals and discover all of the fascinating species of birds nearby our luxury Marco Island vacation properties!
Comment on this post!