---
A Marco Island Pub Crawl
Posted On Tuesday, March 06, 2018
---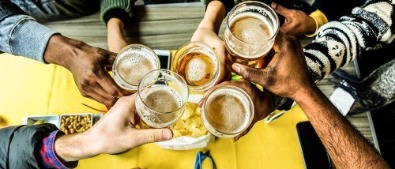 When Springtime arrives in Marco, and the month of March everyone gets a little green and looks for the best place to raise a pint in celebration. Marco Island Vacations Horizon Rentals has a few suggestions for the best spots to taste good brews and relax for a bit of springtime celebrating. Stay with us in one of our Marco Island rentals and be sure to check out these pubs and diners for some of Marco Island's best brews and crafted drinks.
Waterfront Sipping
Marco Island is known for its beautiful surrounding waters and unbeatable beachfront views. When you are craving a tasty drink and a spot on the water to sip it slow and take in the atmosphere, The SpeakEasy Marco is the perfect stop. Find a variety of meals and drinks that boast a traditional Chicago speakeasy style while holding onto the Marco Island flare. Dine on delicious dishes and sip on tasty beverages while the waters sparkle just below the deck.
Marco Island Brewery
When it comes to crafted brews and meals that match exquisite tastes, the Marco Island Brewery has all of the bases covered. Whether it's pizza that will leave your taste buds singing or the best crafted beers to quench any thirst, you will be able to find it here. An upscale feel with a variety of foods from traditional pub meals to gourmet seafood dishes make this stop stand out from the rest.
The Old Marco Pub
Live music, entertainment, fantastic dining, and drinks all come together for a fun atmosphere at the Old Marco Pub. Order yourself something fruity and jive to the tunes of Marco Island. If you are feeling extra lively and want a fun stop for unbeatable nightlife, grab your dancing shoes and move to the beat. Delectable dishes are served up to keep you fueled up for an evening of fun while satisfying even the most sophisticated of tastes.
On your next spring adventure to Marco Island, stay with us here at Marco Island Vacations Horizon Rentals and discover the tastes and brews while you are here. Our Marco Island rentals will keep you close to the fun and ensure that you have a safe and comfortable stay. Marco Island is calling you. What are you waiting for?
Comment on this post!